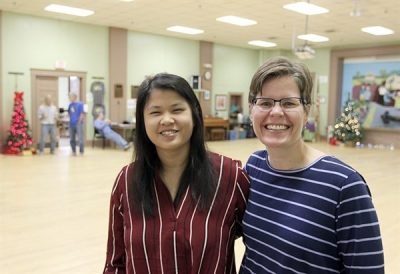 Lori Paulson and Marite' Olmstead are senior advocates who provide information, referral and assistance to seniors in Winona County.
They can be reached at the Winona Friendship Center located at 251 Main Street in Winona, MN. Their mission is to help older citizens remain independent in their homes. Lori and Marite' can help individuals with Medicare health insurance counseling, assistance completing applications, connection to home services in the area and navigation of systems for long term care services and supports.
Lori has an undergraduate degree in Nutrition Science and a master's degree in Food Science and Nutrition from the University of Wisconsin-Stout. She started her professional career in the food industry but, after several years, felt called to do more service-related work. Lori worked as a MediAppS Caseworker, helping to find available solutions for expensive medication costs, prior to joining the Winona Friendship Center as a Senior Advocate in 2017. Lori's thoughts on her favorite moments: "I enjoy working with older adults. I especially enjoy learning about my clients' families and their stories. For instance, one client shared with me what it was like to live and work in communist East Germany prior to her arrival in the United States in her twenties. It is always a wonderful moment when a client enrolls in a program, such as a Medicare Savings Program or Extra Help with Medicare Part D, and the relief that I can see when a financial burden has been relieved. I truly believe that releasing a financial burden can add years of life to a person's life, primarily due to the reduction in stress and worry that was created by that financial burden."
Marite' attended Winona State University and double majored in psychology and sociology with a minor in gerontology and graduated in 2017. She has worked as a senior advocate for another agency/service area before joining the City of Winona as a senior advocate in 2019. Marite' credits growing up in a three-generation household for impacting her choice to work with older adults professionally as her career. When asked about favorite moments and challenges Marite' reports: "Many of my favorite moments have been during Medicare Open Enrollment season. It is very satisfying to assist others with an overwhelming task and break it down to the point where they feel confident in making their own decisions. I have also made a lot of new friendships with my clients that I appreciate and value. Right now, with the pandemic, I see social isolation as a huge challenge for older adults. Thankfully, the Winona Friendship Center has been working on implementing a variety of virtual programs and getting more technology out into the community, but I know there are still many people out there without these capabilities. Human connection is so vitally important to stay engaged and age successfully."
If you are interested in exploring how a senior advocate can help you or a loved one in Winona county find and understand services and supports available, Lori and Marite' can be contacted by calling: 507-454-7369.