Health Promotion Programs
Evidence-based health promotion programs are proven to have positive outcomes through pre- and post- testing, standardized practices, methods and curriculums. There are a number of educational programs that are being promoted in Minnesota that help change people's lives for the better.
Partners Offering Evidence-Based Healthy Living Programs
Click on the organization to see additional EB class options and to register.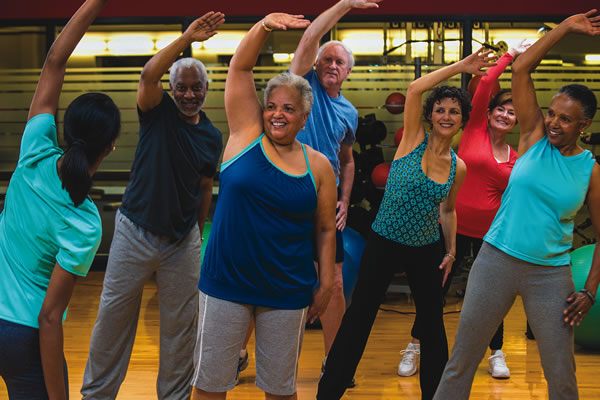 SEMAAA support the delivery of a number of evidence-based programs with Older American Act Tile 3D funding.
Click here to see a schedule of the on-going Arthritis Foundation Senior Exercise classes.
Classes offered in-person, locally and through Juniper on-line include:
Falls Prevention
A Matter of Balance
Matter of Balance (MOB) is a researched and evidence-based program, designed to reduce the fear of falling and increase the activity levels of older adults.
During these classes participants learn to view falls and fears of falling as controllable, learn to set realistic goals for increasing activity, learn to change their environment to reduce fall risk factors, and promote exercise to increase strength and balance.
This is taught through group discussion, problem-solving, skill building, assertiveness training, exercise training, videotapes, and sharing practical solutions.
Tai Ji Quan
Moving for Better Balance
Research has shown that people who complete the program are half as likely to fall and are less fearful of falling.
The program is intended for community dwelling older adults, age 60 and older, who can walk easily with or without assistive device. Participants will learn balance skills, good body alignment and coordinated Tai Chi movements. Participants typically have improved physical health that leads to better functioning in daily activities, improved balance, muscle strength, flexibility and mobility, and better mental health such as increased self-esteem and more social interaction.
Stepping On
Stepping On offers participants a way of reducing falls and at the same time increasing self-confidence in situations where they are at risk of falling.
It covers a range of issues, including falls and risk, strength and balance exercises, home hazards, safe footwear, vision and falls, safety in public places, community mobility, coping after a fall, and how to initiate a medication review.
Stay Active and Independent for Life (SAIL)
Stay Active and Independent for Life (SAIL) is an evidence-based intervention for prevention of falls.
The exercise program includes aerobics, strengthening, and balance components. The SAIL Program includes a fitness class designed specifically for older adults, as well as educational materials and self-assessments.
Upcoming Falls Prevention Classes
Click on class for more information
Chronic Pain and Disease Management
Living Well with Chronic Conditions
Take charge of your life and live fully! Led by a certified trainer, the Chronic Disease Self-Management Program is a motivational, interactive educational model. Over six-weeks, participants learn to better manage and cope with their chronic disease such as diabetes, osteoarthritis, or arthritis.
Living Well with Chronic Pain
This program is designed to help participants deal with chronic conditions. Topics include: techniques to deal with frustration, fatigue, pain and isolation, appropriate exercise for maintaining and improving strength, flexibility, and endurance, appropriate use of medications, communicating effectively with family, friends, and health professionals, nutrition, and how to evaluate new treatments.
Walk With Ease
Walk With Ease helps you create a routine to stay active and healthy. You'll learn a safe, relaxing and enjoyable way to make walking part of your everyday life. The class will help you increase balance, strength and walking pace; build confidence around being physically active and reduce pain and discomfort from arthritis or other health conditions.
Arthritis Foundation Exercise Program (AFEP)
Eating healthy, exercising, and understanding normal aging is the focus of the Arthritis Foundation Exercise Program. Arthritis Foundation Certified exercise leaders and other professionals lead fitness sessions designed to improve or maintain strength and flexibility, and, educate participants on health and nutrition topics. Most sites either are in senior housing units or coordinate with senior dining locations
See below a schedule of classes.
Arthritis Foundation Exercise Classes in SE MN
These are free senior classes open to anyone 60+ looking for an exercise program to improve their strength, balance, flexibility, and arthritis symptoms.
Check out a class near you! Registration is not required.
Community
Address
Class Details
Austin
Mower County Senior Center
400 3rd Ave NE, Austin, MN
Monday & Wednesday
10:15-11 a.m.
Caledonia
Claddagh Senior Living
508 Kruckow Ave, Caledonia, MN
Wednesday & Friday
9:30-10:30 a.m.
Harmony
Harmony Community Center
225 3rd Ave SW, Harmony, MN
Tuesday & Thursday
8:15-9 a.m.
Kasson
St. John's Lutheran Church
301 8th Ave NW, Kasson, MN
Monday & Friday
10:15-11 a.m.
Lake City
Lake Pepin Plaza
211 Franklin, Lake City, MN
Monday & Wednesday
10-10:45 a.m.
Owatonna
Owatonna Social Commons
500 Dunnell Dr., Owatonna, MN
Monday & Wednesday
10:15-11 a.m.
Plainview
Plainview American Legion
215 3rd St SW, Plainview, MN
Tuesday & Thursday
9:15-10 a.m.
Preston
Christ Lutheran Church
509 Kansas St NW, Preston, MN
Tuesday & Thursday
11:30 a.m. – 12:15 p.m.
Rochester
Bethel Lutheran Church
810 3rd Ave SE
Tuesday & Thursday
9-9:45 a.m.
Spring Valley
Spring Valley Community Center
200 S Broadway, Spring Valley, MN
Tuesday & Thursday
10-10:45 a.m.
Zumbrota
Zumbrota Tower
93 4th St East, Zumbrota, MN
Tuesday & Thursday
9:15-10:15 a.m.
Classes coordinated and managed by Catholic Charities and funded through a Title IIID OAA grant
through the SE MN Area Agency on Aging.
Diabetes Prevention and Self-Management
Diabetes Prevention Program (DPP)
DPP is a collaborative, community-based, lifestyle change program designed for people with pre-diabetes. The topics include eating healthier, reducing stress, and getting more physical activity to become healthier.
Living Well with Diabetes
Also known as Diabetes Self-Management Program.
This program is designed for people with type 2 diabetes and how to live well. Topics include: techniques to deal with the symptoms of diabetes, fatigue, pain, hyper/hypoglycemia, stress, depression, anger, fear and frustration; appropriate exercise for maintaining and improving strength and endurance; healthy eating, appropriate use of medication; and working with health care providers.
Caregivers
Powerful Tools for Caregivers
This is a well received, six-week education program geared for caregivers assisting loved ones. Many class participants report that they have fewer feelings of anger, guild and depression as well as an increased confidence in coping with the demands of caregiving. There are several trained leaders in the region who lead the sessions.
Resources for Enhancing Alzheimer's Caregiver Health (REACH)
REACH is a program for people who are caring for a loved one with Alzheimer's or other dementia at home. The program addresses problems related to caregiver health that often force people to move their loved ones to long term care facilities. If the caregiver is better able to manage the challenges of caregiving, the person he or she cares for will benefit as well.
Upcoming Caregiver Classes
Click on class for more information
Mental Health
PEARLS
PEARLS is a community-based treatment program for older adults with depression. PEARLS counselors meet with clients for eight sessions with an additional four follow-up sessions over the course of five months. The program is designed to be led one-on-one, in-person or can be offered via phone or computer.
PEARLS counselors teach clients the skills necessary to move to action and make lasting life changes. Methods include problem solving, social and physical activation, and increased pleasant events to reduce depression and increase emotional well-being. PEARLS is based on 3 fundamental principles.
What a participant is experiencing are symptoms, and the symptoms are due to depression.
There is a close link between depression and unsolved problems.
Increasing participation in social, physical, and other pleasant activities leads to a decrease in depressive symptoms.