Financial Planning and Medicare
These can be overwhelming. Some concerns seniors may have are: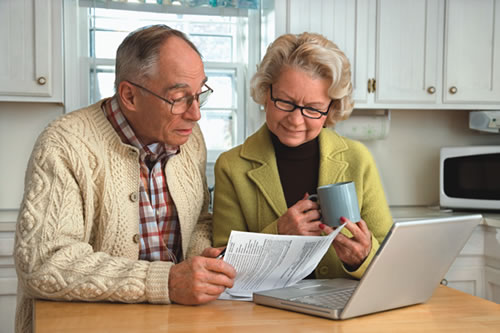 Own Your Future
Own Your Future aims to make Minnesotans aware of the importance of planning now to identify personal and financial options to meet their future long-term needs and to increase the number of Minnesotans who have taken action to address and provide for their future long-term needs.
Financing Accessibility Improvements
Remodel expenses are generally paid for by your own income and assets. Explore home equity loans and reverse mortgages with a banker or financial advisor.
Some cities and counties have low interest loans available for this type of project. You can look into options at your local housing and redevelopment authority as well as the USDA rural development loans and grants program. Please contact Senior Linkage Line® to discuss how to find out if there are programs you may qualify for and to help you connect to these resources to apply.
If you qualify for the Elderly Waiver or Alternative Care program in your county – home modification may be an option for you to discuss with your care manager. Senior Linkage Line® can help you connect to the correct individual.
Turning 65 or going on Medicare?
Our Senior LinkAge Line® specialists have the current information on Medicare, health insurance options, prescription assistance, and long-term care insurance. The Senior LinkAge Line® is Minnesota's State Health Insurance and Assistance Program (SHIP). We can help resolve billing errors, compare health or drug plans and fight fraud and abuse.

Consider taking the "ABCD's of Medicare" class, which is designed for those who are nearing retirement and going on Medicare. We partner with senior centers and community education in the major cities of southeastern Minnesota.
Long-Term Care
Have you wondered about how to pay for the care if you cannot do it alone anymore? Senior LinkAge Line® staff can help you understand things such as long term care insurance, partnership policies, public programs like Elderly Waiver and Alternative Care. Other options to help you stay at home is included.
Fraud and Abuse
$1 out of every $10 spent on federal health programs is wasted. Learn how you can protect yourself from unscrupulous health care offers; detect fraudulent practices and billing of Medicare and report to the local Senior Medicare Patrol – SMP – which in MN is the Senior LinkAge Line®. Consider this short program empowering seniors to prevent healthcare fraud.
Our specialists can review your financial situation
We can help determine whether programs such as elderly waiver, alternative care, Medicare savings or drug assistance might benefit you.
We can provide you with applications. One-on-one assistance can also be arranged if needed.