Being a caregiver may have many roles and different levels of caregiving.
You may be caring for an aging parent or close adult, someone who is ill or had been in an accident, or someone who is disabled. Sometimes you might have been thrown into being a caregiver during a crisis, unprepared; other times it feels right helping another. Your situation is one of a kind. You are not alone.
Whether you are looking for help at home; exploring ideas about the options and programs available; or trying to find a specific service like transportation or respite, our Senior LinkAge Line® specialists can guide you. We keep abreast of the growing network of community-based services, housing options, assistance programs, healthy aging workshops, caregiving support groups and more.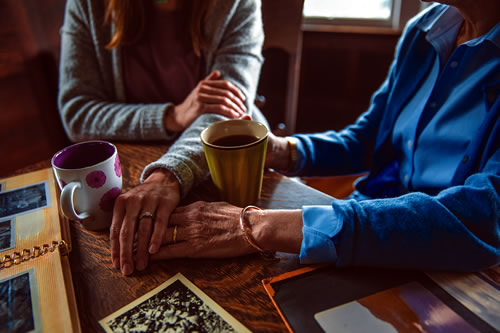 Taking Care of Yourself
Caregivers can find themselves giving more and more without time for regenerating themselves. Take care of yourself so you can be the best caregiver you can be.
Full-Time Caregiver
Caring for someone full-time or long-term can take a toll on a caregiver. Having the option to have someone else care short-term can provide time away without the worry of their loved one being taken care of.
Long-Distance Caregiving
Taking care of a loved one that you are not with physically has many challenges as well. Ensuring they are being taken care of, provided needed assistance, and checking in on them can be stressful. Knowing what local resources are available can bring peace of mind.
Disability Caregiving
Taking care of a loved one with a disability has unique challenges. Knowing what local resources are available can bring peace of mind.
There are tools to help manage stress.
"Powerful Tools for Caregivers" is an educational program for those caring for individuals with long-term health issues. This is a well- received, six-week education program geared for caregivers assisting loved ones. Many class participants report that they have fewer feelings of anger, guilt and depression as well as an increased confidence in coping with the demands of caregiving. There are several trained leaders in the region who lead the sessions. See our calendar for a class near you.
In order to take care of others, you first need to take care of yourself.
Senior LinkAge Line® specialists can help you locate caregiver support groups or a caregiver consultant.