Being a caregiver may have many roles and different levels of caregiving.
You may be caring for an aging parent or close adult, someone who is ill or had been in an accident, or someone who is disabled. Sometimes you might have been thrown into being a caregiver during a crisis, unprepared; other times it feels right helping another. Your situation is one of a kind. You are not alone.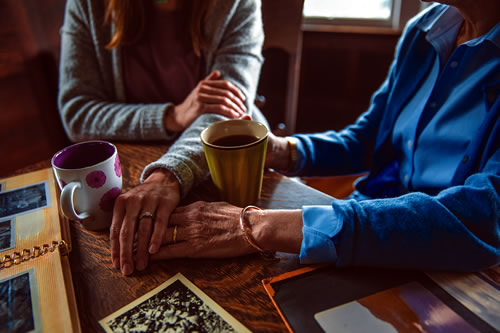 Caregiver Services Available in SE MN
Caregiver Consultation
Work with a trained professional who can provide resources and tools to help you on your caregiving journey. Caregiver Consultants can help with:
Problem-solving
Information and resources
Caregiver education and training
Emotional support
Family Meetings
Caregiver Support Groups
Many organizations in SE MN provide support groups for caregivers, either in-person or on-line. These groups provide caregivers with emotional support, education, and additional resources.
Caregiver Education
Education can be done individually with a Caregiver Consultant or in a group setting through a class like the Powerful Tools for Caregivers workshop. You will learn how to reduce your stress, communicate in challenging situations, manage difficult behaviors, and master caregiving decisions. Other educational tools may be available like the Trualta platform which helps caregivers learn how to care for someone with dementia in addition to gaining many other caregiving skills.
In-Home Respite
If you are a caregiver, it can be hard to make time for yourself, whether it's for a relaxing break or simply running errands. Respite services are designed to allow you to take a brief temporary break from your caregiving duties while someone comes into your home to provide care, supervision, and companionship.
Other Supports
Caregivers sometimes need other supports to allow them to remain at home and continue to provide care for their loved one. Other services available in our region include: senior dining, home delivered meals, assisted transportation, chore & homemaker, legal casework and education and evidence based programs to help you stay healthy.
For information about these and other services call the Senior LinkAge Line – 800-333-2433.
Caregiving for Older Adults- A Part of Our Culture
There are tools to help manage stress.
"Powerful Tools for Caregivers" is an educational program for those caring for individuals with long-term health issues. This is a well- received, six-week education program geared for caregivers assisting loved ones. Many class participants report that they have fewer feelings of anger, guilt and depression as well as an increased confidence in coping with the demands of caregiving. There are several trained leaders in the region who lead the sessions. See our calendar for a class near you.
In order to take care of others, you first need to take care of yourself.
Senior LinkAge Line® specialists can help you locate caregiver support groups or a caregiver consultant.